Competency Gap Identification Through Customized I4.0 Education Scale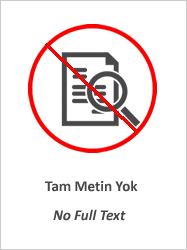 Date
2022
Author
Kocamaz, Murat
Çiçekli, U. Gökay
Koçak, Aydın
Soyuer, Haluk
Bauer, Jorge Martin
Baş, Gökçen
Durakbasa, Numan M.
Kaymaz, Yunus
Keskin, Fatma Demircan
Kabasakal, İnanç
Güçlü, Erol
Soyuer, Ece
Citation
Kocamaz, M., Çiçekli, U.G., Koçak, A., Soyuer, H., Bauer, J.M., Baş, G., Durakbasa, N.M., Kaymaz, Y., Keskin, F.D., Kabasakal, İ., Güçlü, E., Soyuer, E. (2022). Competency Gap Identification Through Customized I4.0 Education Scale. Lecture Notes in Mechanical Engineering, pp. 387-400.
Abstract
The key competencies and knowledge of employees in a new era of production systems based on the concept of Industry 4.0 are becoming increasingly important for business and education worldwide. The intensive interaction of intelligent production systems and people in the context of Industry 4.0 is the future of an agile, flexible, environmentally friendly, safe and efficient working environment. The key to this lies in the education and training of people in such advanced production systems. One of the most important prerequisites for companies to be successful in Industry 4.0 implementation and sustain their competitiveness and innovation is to have a skilled workforce aligned with Industry 4.0. In order to provide this prerequisite, it is necessary to determine what the competencies required for Industry 4.0 in businesses are, identify the competency gaps, and create custom education plans to close these deficiencies. From this point of view, the CEP I4.0 project funded under the Erasmus+ Programme aims to provide a customized training plan to close Industry 4.0 competitiveness gaps in order to support competitiveness and innovation in companies. This paper presents the need analysis that has been carried out based on the data collected from the participants from Turkey and Austria so far, with the details of the open-ended questions directed to the participants and analysis findings. Moreover, the main and sub-dimensions of the Industry 4.0 competence scale being developed are also presented.
Source
Lecture Notes in Mechanical Engineering
---
---